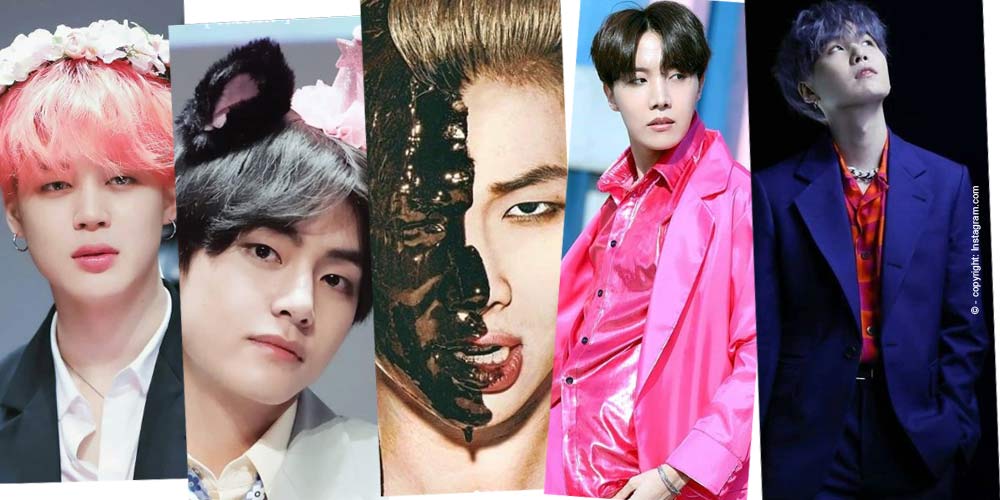 K-Pop: BTS bate el récord mundial con «Boy with Luv»
BTS lo ha vuelto a hacer. La banda de K-Pop más exitosa internacionalmente no sólo irrumpió en las listas de éxitos con sus nueve canciones «Boy with Luv», sino que también batió el récord mundial de videos más vistos en dos días. En la primera noche ya hubo 74,6 millones de visitas, en la segunda 100 millones. En FIV hemos recopilado todo sobre BTS para usted.
[variable de código abreviado slug=»adsense»]
BTS rompe récord mundial de Blackpink
El récord mundial de la mayoría de las visitas a Youtube en 24 horas lo ostentaba Blackpink con 56,7 millones de visitas, a las que Ariana Grandes llamó «Thank u next».
Perfil de la ETB – edad, nombre real e incorporación
K-Pop son las siglas de Korean Popular Music, la banda fue, como es habitual en Corea, formada por una empresa de gestión. Consiste en:
Jin (Kim Seokjin, 26)
Suga (Min Yoongi, 26)
J-Hope (Jung Hoseok, 25)
Rap Monster (Kim Namjoon, 24)
Jimin (Park Jimin, 23)
V (Kim Taehyung, 23)
Jungkook (Jeon Jungkook, 21)
So BTS fue fundada
Los primeros miembros fueron reclutados en 2010-2011. Hasta el equipo de 2012, algunos miembros originales fueron reemplazados por otros nuevos. Seis meses antes de que la Boy Band fuera realmente fundada, los chicos empezaron a interactuar con sus fans. Antes de BTS RM y Suga trabajaban como raperos underground. Jin estudió en la Universidad Konkuk. J-Hope participó en varios concursos de baile como miembro de un equipo de baile callejero. Jimin estudió Danza Moderna en la Escuela Superior de Artes de Busan, que luego abandonó para trasladarse a la Escuela Superior de Artes de Corea, donde conoció a V. Después de dejar el espectáculo de talentos Superstar K, Jungkook recibió ofertas de siete agencias. Al final fue a Big Hit Entertainment porque estaba entusiasmado con el rap de RM.
El debut de BTS
Celebraron su gran debut en 2013 con el sencillo «2 Cool 4 Skool» y también ganaron el «Best Newcomer Award», el «Golden Disk Award» y el «Seoul Music Award». Un año después continuaron su éxito, los siguientes sencillos «We are Bulletproof PT II», «N.O.» y «O!RUL8,2» (¡Oh! ¿También llegas tarde?) también celebran el éxito internacional.
BTS x Billie Eilish – canción común
En una entrevista, BTS reveló con quiénes les gustaría trabajar en el futuro. Después de haber producido canciones con Ed Sheeran y Halsey para su álbum actual, probablemente trabajarán con Billie Eilish en el futuro. El interés en un single común con el cantante y compositor estadounidense es grande. Lo que finalmente se llamará la canción y cuándo será lanzada está por verse – no podemos esperar.
Todos los álbumes de BTS en orden cronológico
Dark & Wild
Wings
Wake Up
Youth
Map of the Soul: Persona
El significado de BTS
El nombre de la banda BTS es una abreviatura que tiene muchos significados diferentes. Por un lado, BTS son las siglas de Bulletproof Boy Scouts. Por cierto, en coreano esto se llama 방탄소년단 o Bangtan Sonyeondan. Mientras tanto, la abreviatura BTS también significa Bangtan Boys.
Representante Adorable M.C. para Jóvenes – Army
Los fans del grupo se llaman a sí mismos ARMY, que significa «Adorable Representative M.C. for Youth» (Representante Adorable M.C. para la Juventud). La enorme base de fans está reunida en todo el mundo. En Instagram, la banda tiene un total de 13,8 millones de seguidores. Cada uno de los miembros tiene entre tres y cinco millones de fans en sus cuentas individuales, por lo que ya se están rascando los 30 millones de seguidores. Además, el crecimiento es cada día más fuerte y la banda es cada vez más exitosa, así que esto no cambiará tan rápido.
BTS y Unicef – Band está comprometida con organizaciones de caridad
Cualquiera que siga las actividades de la banda sabe que han apoyado a numerosas organizaciones de ayuda en el pasado. Uno de los más conocidos es Unicef. Junto con Unicef, el Grupo ha lanzado una campaña de «Ámame a mí mismo» en Corea. Con ello se pretende ayudar a los niños y jóvenes que han sido víctimas de delitos violentos. Además, el 3% de los ingresos del álbum «Love yourself» se destinó a este fin. En el pasado, BTS incluso ha sido invitado a una reunión de la ONU en la que el miembro de la banda RM dio un discurso sobre el amor propio.
https://fivmagazine.es/wp-content/uploads/2019/04/bts-army-steckbrief-jungkook-mitglieder-alter-alben-love-myself-unicef-record-billie-eilish-taylor-swift-black-pink-boy-with-luv.jpg
500
1000
Lisa-Marie
/wp-content/uploads/2020/07/fiv-magazine-news-instagram-youtube-tiktok-influencer-fashion-interior-jewelry-real-estate-tips-help-logo.png
Lisa-Marie
2019-04-28 07:00:55
2019-04-26 11:42:59
K-Pop: BTS bate el récord mundial con «Boy with Luv»