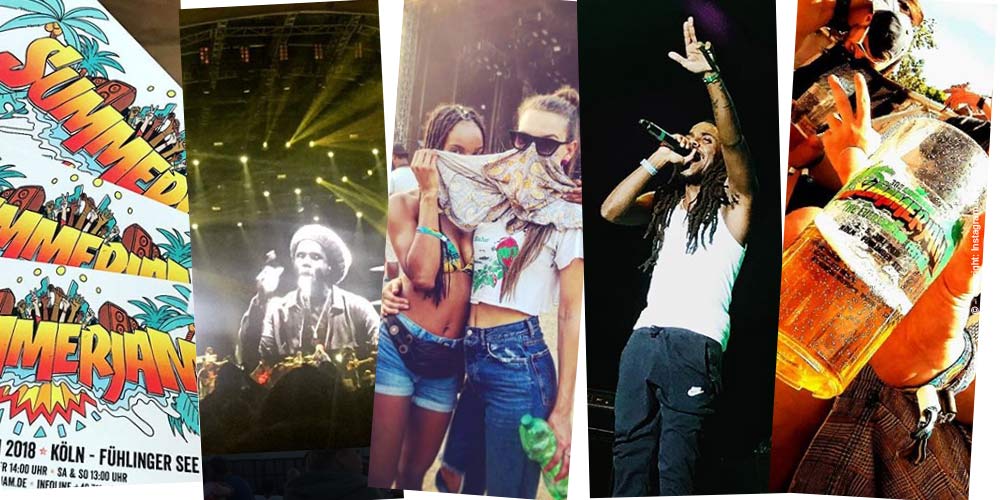 El Festival de Reggae de Alemania – Summerjam
Hacer la vida positiva, diversa y tolerante – ese es el lema del Summerjam. Como uno de los festivales de reggae más grandes de Europa, atrae a grandes multitudes cada año y siempre ofrece una experiencia única. Una vez al año diferentes personas se reúnen en Colonia para celebrar el festival en el Fühlinger See durante más de 3 días y para celebrar el amor y la tolerancia.
De Bob Marley a Seeed
El primer Summerjam en 1985 fue un éxito inesperado. Los organizadores no estaban seguros de que esto fuera a funcionar.  Originalmente era sólo un concierto de un día y como el reggae no era muy conocido en Alemania, no se podía prever el éxito. Pero entonces sucedió – 8000 personas vinieron al Summerjam y estaba claro que había un futuro para ello. Mientras tanto, el Summerjam es el festival más antiguo de Alemania y el festival de reggae más antiguo de Europa. Inspirado por la leyenda del reggae Bob Marley, la tendencia musical de los 80 fue traída a Alemania por la leyenda del reggae Bob Marley y sigue siendo un fenómeno en el que Seeed y Gentlemen, cuando eran aún más desconocidos, actuaban en aquel entonces – hoy son estrellas.
Destacados del Festival de Summerjam
En los últimos años se han reunido innumerables actos en el Summerjam. Desde Seeed to Gentleman to Alligatoah, Sean Paul and Capleton, el Reggae Event of the Year también ofrece diversidad musical. El lema cambia cada año – el espíritu sigue siendo el mismo: Juntos por la tolerancia, la diversidad y una actitud positiva ante la vida. Cada año le espera una aventura veraniega diferente en el Fühlinger See – clima cálido, bebidas frías, música a todo volumen y refrescarse delante de usted. ¿Qué más se puede pedir de un festival? Es probablemente uno de los pocos lugares donde ni siquiera nosotros en la FIV podemos ayudarte.
Summerjam – Entradas y Precios
Con un festival tan codiciado, definitivamente vale la pena cuidar los boletos del festival. Como en muchos de los grandes festivales, a menudo se agotan rápidamente. Actualmente existen las populares entradas «Early Bird», que se ofrecen a un precio reducido. El billete duro o electrónico de 3 días le cuesta 110,-€, a los que se añade otra tarifa de 8,-€ VVK. El tiempo de disponibilidad de la oferta es incierto. Así que si sabes que definitivamente quieres ir al Summerjam, a pesar de que la alineación aún no ha salido, deberías asegurarte de hacerlo, porque la oferta es limitada.
Camping en el sitio
A diferencia de otros festivales como Rock am Ring, o Hurricane, Summerjam ofrece camping gratuito para todos los visitantes que hayan comprado un billete de fin de semana. Para 2019 las zonas de acampada abrirán el 4 de julio de 2019 a las 08:00 horas. Antes del lunes 01.07. No se permite acampar en el área de Fühlinger See.
La ciudad de Colonia tomará medidas contra los Wild Campers
Áreas de acampada
Las zonas de acampada están numeradas para su orientación. Por favor, utilice únicamente las zonas de acampada señalizadas (C1-C6), que ofrecen espacio para todos. Todos los caminos deben estar despejados! Se trata de entradas de rescate para ambulancias, bomberos, etc., con el fin de poder salvar vidas rápidamente si es necesario, la suya o la de sus amigos. El camping está estrictamente prohibido en el bosque y en los aparcamientos! En todas las zonas de acampada hay un servicio de camping. Aquí encontrará información, siempre bebidas frías a precios justos y por la mañana café y desayuno. En caso de problemas, emergencias y sugerencias, el personal del servicio de campamento está a su disposición. El horario de apertura es del jueves, 04.07. al lunes, 08.07.2019 (08.00 – 03.00 horas).
Caravanas de camping
Desde 2018 también puede alquilar una plaza de aparcamiento para su caravana de camping por un precio adicional. Aquí una vez que sus posibilidades se enumeran:
Tenga en cuenta que cada pasajero también necesita un billete del festival para acceder a las Áreas de Caravanas.
La llegada es posible a partir del miércoles a las 14:00 horas.
No se permiten tiendas de campaña adicionales en las plazas de aparcamiento para caravanas.
Se permiten autocaravanas, caravanas y autobuses de camping como el VW T4 o similar. Los coches o camionetas convertidos no se consideran autocaravanas y la entrada no está permitida con un billete de caravana válido.
https://fivmagazine.es/wp-content/uploads/2018/11/summerjam-festival-reggae-bob-marley-seeed-cologne-europe-biggest-festival-summer-camping.jpg
500
1000
Lisa-Marie
/wp-content/uploads/2020/07/fiv-magazine-news-instagram-youtube-tiktok-influencer-fashion-interior-jewelry-real-estate-tips-help-logo.png
Lisa-Marie
2018-12-01 07:00:53
2018-11-29 12:09:46
El Festival de Reggae de Alemania – Summerjam