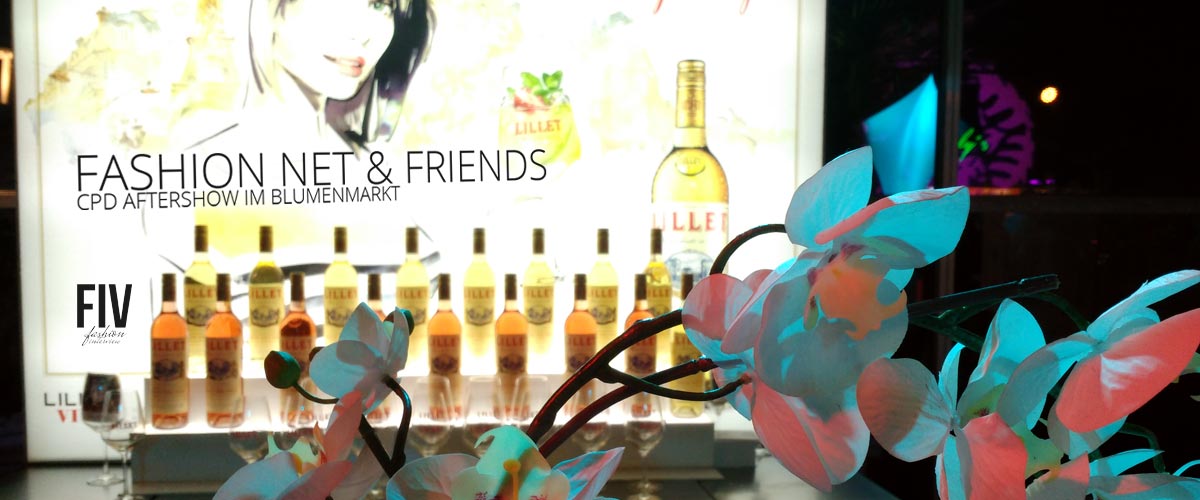 Fashion Net & Friends Come Together Düsseldorf 2016
Fashion Net & Friends – Ya es otra vez ese momento. El mayor encuentro del sector le invita a una acogedora velada dominical en Düsseldorf. Con motivo de las Jornadas de la Orden en Düsseldorf, la comunidad de Fashion Net le invita por sexta vez a una acogedora reunión el domingo del CPD. Fashion Net & Friends es una reunión relajada del sector con música, cócteles afrutados y veraniegos y buena comida. Poco antes, por supuesto, hay espectáculos. También durante la fiesta nos apresuramos a ir a ver a Thomas Rath – desgraciadamente llegamos demasiado tarde (pero esa es otra historia). En consonancia con el tema de la noche, el Mercado de las Flores, la mayor fiesta del sector en Alemania, se celebra en el mercado mayorista de flores de Düsseldorf. Estuvimos allí y pasamos una velada fantástica en Flower Wholesale Düsseldorf.
Después de la feria y el desfile de moda: Fashion Net & Friends Come Together Düsseldorf 2016
¿Una tienda de flores al por mayor? Por qué no. Cuando llegas, te sientes un poco desorientado. Los muros delimitan el negocio mayorista a la izquierda y a la derecha. Un solitario portero se sienta en la puerta del camión. Frente a él hay un par de globos flotantes de colores. Después de uno o dos minutos, captamos la idea: ¡sigue los globos! En el patio, muchos camiones, mucho hormigón y muchas naves industriales. Uno a uno, los coches de lujo entran en el patio, detrás de uno de los edificios de la fábrica. Voilà, ya estamos. Tras un largo fin de semana de CPD en Düsseldorf, hemos llegado al último destino. The Fashion Net & Friends Come Together Düsseldorf 2016 en el mayorista de flores de Düsseldorf.
¡Tada! Salón, música, bebidas, moda y muchas flores
Ya en la última edición, en febrero, los organizadores impresionaron con esta extraordinaria elección del lugar. «Nuestro último Fashion Net & Friends Come Together fue un gran éxito, así que la elección del lugar fue muy fácil esta vez. Ya estamos deseando que se produzca un intenso intercambio en un ambiente distendido con los protagonistas de la industria de la moda. Sobre todo, gracias a nuestros patrocinadores, sin los cuales este gran evento no sería posible. El domingo del CPD está listo», dice Angelika Firnrohr, directora de Fashion Net e.V. e iniciadora del evento. Además de Fashion Net, otros anfitriones de primera clase hacen posible el exclusivo evento: Brax, Digel, Eterna, Fuchs Schmitt, Seidensticker, Olymp, The Supreme Group, Rabe, Bugatti, Gerry Weber, Lillet, Mavis, Kö-Bogen, Textilwirtschaft y Zerres.
Todo estaba realmente cuidado. En varios bares pequeños, los camareros estaban preparados para todos los visitantes: desde agua, pasando por vinos finos, hasta creaciones de cócteles veraniegos. Las bebidas de Lillet eran muy especiales. Varios camiones de comida ofrecieron pequeñas y grandes delicias, como la hamburguesa de Sophie 'Miss Sophie & Friends'. Con un DJane, música house, un cantante y un violín eléctrico, todo el mundo bailó hasta bien entrada la noche. La oficina de orden público también estuvo allí brevemente, la música estaba muy alta, todo lo que necesita una buena fiesta.
Ha sido una bonita velada.
Nos divertimos mucho y conocimos a gente interesante de todo el mundo. Desde una buena conversación con una editora de moda india hasta el Supertalent 2015, una cantante y persona muy simpática. Por discreción, nos contuvimos con las fotos. Pero a la fiesta asistieron principalmente las personas que trabajan duro detrás de CPD: directores de marca, modelos, directores de ventas y representantes de la prensa seleccionados. Le agradecemos mucho la invitación y esperamos la próxima temporada… en el comercio de flores al por mayor.
https://fivmagazine.es/wp-content/uploads/2016/07/fashion-net-friends-aftershow-duesseldorf-cpd-mode-messe-2016-exklusiv-backstage.jpg
500
1200
Stephan
/wp-content/uploads/2020/07/fiv-magazine-news-instagram-youtube-tiktok-influencer-fashion-interior-jewelry-real-estate-tips-help-logo.png
Stephan
2016-07-25 12:12:24
2016-07-25 12:12:24
Fashion Net & Friends Come Together Düsseldorf 2016